Art Off the Wall
100 pieces of ART | 100 chances to WIN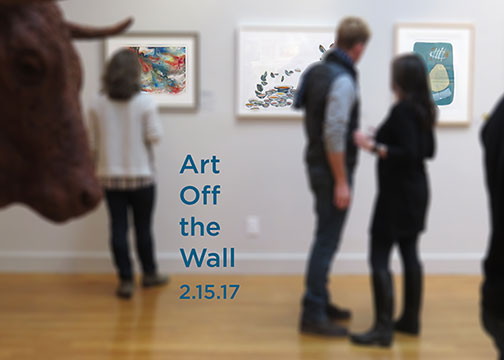 Collector's Ticket $195 • Guest Ticket $55
Collectors are guaranteed to acquire an ORIGINAL WORK of ART, valued at $250 or greater!
How It Works:
Each Collector's name will be pulled at random through the evening for the opportunity to select
a piece of art from the Bancroft Gallery 'Off the Wall' collection. Guest tickets are also available.
Please join us for fun and revelry!


Proceeds of Art Off the Wall support SSAC's award-winning art education outreach programs,
benefiting 1,400 students who attend SSAC for free annually.

Participating Artists

Susan Ahearn
Kim Alemian
Robert Avakian
Marcia Ballou
Rita Berkowitz
Bill Brett
Robert Brodesky
Carolyn Cami Loughin
Irma Cerese
Margot Cheel
JoAnne Chittick
Lilly Cleveland
Nancy Colella
Heather Collins




Ann Conte
Allison Crowe
Susan Dennisten
Dianne Dolan
Sue Dragoo
Jim Earl


Ros Farbush

Ted Gentry
Larry Guilmette

Ken Lindgren
Kimberley Majury Albanese
Esther Maschio
James Marten
Jan McElhinny


Joe Norris
Laurinda O'Connor
Dianne Panarelli Miller

Anthony Pilla
Dorothy Amore Pilla
Donna Rossetti-Bailey
Stephen Sheffield
Mary St. Sauveur
Vcevy Strekalovsky
Valerie Forte Vitali
Mike Weymouth
Tina Watson

Jeanne Wiley
---
About South Shore Art Center
A non-profit organization formed in 1954, South Shore Art Center is dedicated to enriching the communities south of Boston by fostering an understanding and appre­ciation of the visual arts through exhibitions and educa­tion. In addition to a nationally-recognized exhibition program, the Art Center offers courses and workshops for adults and children, and enrichment programs to area schools.

Contact Kristen Sherman, Director of Development,
---