Art Festival GALA News!

Check out the coverage on the Patriot Ledger website about our Art Festival Gala held on Tuesday night on the grounds of the Music Circus.Congratulations to Frank and Mark for such a fantastic event!
Play the video and see the photos— http://www.patriotledger.com/article/20150617/NEWS/150616531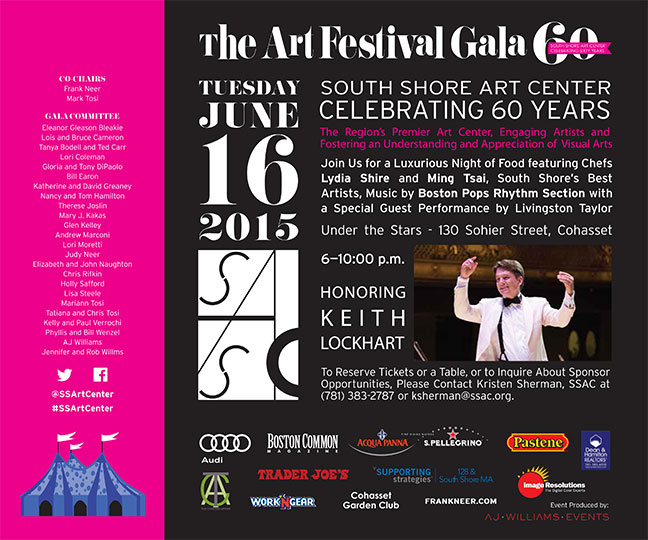 Proceeds from this event support SSAC's education outreach, exhibition and youth programs.
---
Photos by Jack Foley Photography

Photos by Kerry Brett
Images by Gallery Artist Jack Foley
---
"South Shore Art Center Arts Festival mixes the best of small town New England summer
festivals with an uncommon attention to detail and commitment to presenting quality art and handmade craft."

South Shore Art Center Arts Festival celebrates its 60th year and showcases craft and fine artists from New England and beyond. In addition to almost one hundred juried exhibitor booths, the Arts Festival features a juried art exhibition and members' show, live music performances, artist demonstrations, children's art activities and a young artist exhibition.


The Arts Festival draws over 9,000 visitors from the Greater Boston region to historic, oceanside Cohasset Common.
---
About South Shore Art Center
A non-profit organization formed in 1954, South Shore Art Center is dedicated to enriching the communities south of Boston by fostering an understanding and appre­ciation of the visual arts through exhibitions and educa­tion. In addition to a nationally-recognized exhibition program, the Art Center offers courses and workshops for adults and children, and enrichment programs to area schools.