July 15– Aug 21        Blue Ribbon Members' Show
OPENING RECEPTION: Friday, July 15, 6–8PM
Dillon Gallery:  Blue Ribbon continued…
Opening Reception sponsored by: Trader Joe's, The Dreaming Tree, Saved
DROP OFF: JULY 11 & 12, 10 AM–8 PM
All members, including children and teens, are invited to submit one work, not previously exhibited at SSAC or the Arts Festival.

Fees & Specifications
A $15 non-refundable fee is payable upon delivery of the artwork. No pricing changes will be allowed after receipt of entries. Works must be professionally presented, securely wired, and ready for hanging.
Sales: The artist receives 60% of the sale price.

AWARDS
Four ribbons, accompanied by $100 cash prizes, will be awarded for exemplary works.

Pick Up Dates
Artwork may be picked up at the close of the show, Monday, August 22, &Tuesday, August 23. Storage beyond the last removal date is unavailable.Membership must be current through September, 2016 and may be obtained or renewed at the time of artwork delivery.
---
July 19
South Shore Greets North Shore
Plein Air Paint-Out
Tuesday, July 19, 10–3
Reservations Required: Info@ssac.org
---
Sep 16–Nov 6           
Once There Was a House…Echoes from the Villa of Mysteries—Laurie Kaplowitz and Katha Seidman
("Once There Was a House Facebook page, Click here)
OPENING RECEPTION: Friday, September 16, 6–8PM


"Once There Was A House" , a site-specific installation that my colleague Katha Seidman and I are in the process of designing and building, will open at the South Shore Art Center in Cohasett, MA in September 2016. We have created a Facebook page (Click here) to chart our progress as we develop this installation.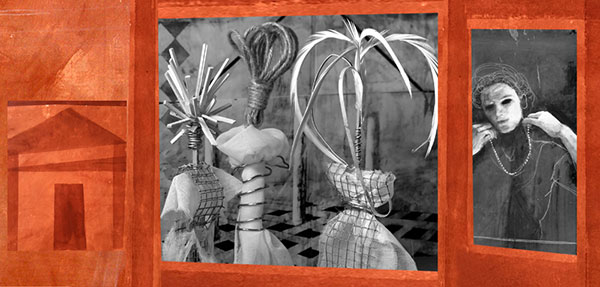 "Once There Was A House" is based on the Villa of Mysteries in Pompeii, a house where time has stopped, millennia have passed, and as if through a wormhole, we look on recognizing much, wondering at more. We invite you to view the page regularly to track our progress. We hope you will "like" and "follow" the page, and especially leave a comment.
---