Apr 8–May 22 National Juried Show—Con|TEXT

juried by Steven Zevitas, selecting works that contain text.
OPENING RECEPTION: Friday, April 8, 6–8 pm

Dillon Gallery: Water–Water, Anne Belson, Maureen Brookfield, Wendy Hale, Burt Longenbach, Mary Smith
Faculty Feature: Paul Endres, Jr.
Accepted Artists
Joan Appel, Climate Change
Carol Baum, Run #2
Eugenie Lewalski Berg, Prognosis Dire
Keith Conforti, Off The Rails
Megan Dempsey, Meditations on Blah
Susan Denniston, Water Marks
Roy DiTosti, Night Vale
Susan Dragoo Lembo, The Tournament
Russell duPont, T and GEECHIE BOY
Patricia Dusman, Only Words (White) and Only Words (Graphite)
Helga Felleisen, Wisdom 2
Drew Gaffney, Adult Education
George S Gati, Home, Sweet Home
Darlene Gillan, Nantasket Kayak
Conny Goelz-Schmitt, After Winter Must Come Spring
Sarah Goetz, Homesafesafehome
Robert Gratiot, Gucci, Boston and 901 F Street, NW, Washington DC and Swiss Candies
Douglass Gray, Two... Much Rhetoric
Deb Hall, Open Range
Rachel Hammerman, Blue Jay calls to Bluebird says 'I'll take the tartare, you deserve the special'
and It doesn't matter how far you go, only that you leave
Kate Hannon, Dark and Stormy
Mary Kostman, Inaudible Image
Thomas Morin, Chalkboards 301 and Chalkboards 201 and Chalkboards 102
Armin Muhsam, Horror Vacui
Petrea Noyes, Rats!
Keith Parks, A Dream, Shredded
Joyce Powers, Quiet Space
R. Prost, V.P. 16-40
Beverly Rippel, Genesis Table and First Aid III
Stephanie Roberts-Camello, Charting a Storm
Edward Rushton, Jesus Charlie
Stephanie Schechter, Louise's Liquor and MART
Stephen Sheffield, Never Again
Edward Shmunes, Good Morning America22
Anne Tcherepnin, If You Are A Dreamer
Stephanie Todhunter, american koan 1 and american koan 2
S. Tudyk, All These Fine MemoriesA and Put Me In Your Blue Skies
Timothy Wilson, Puerto Rico

---
Jun 3–Jul 10                       
Persistent Memories: Nina Earley, Stacey Piwinski, and Brian Wilson— Abstracted maps, unconventional handwoven fabrics and paintings, and photographic sculptures.
OPENING RECEPTION: Friday, June 3, 6–8PM
Faculty Feature: Homage to Virginia Avery
---
June 17–19                 61st Annual Arts Festival
---
July 15– Aug 21        Blue Ribbon Members' Show
OPENING RECEPTION: Friday, July 15, 6–8PM
Dillon Gallery:  Blue Ribbon continued…
---
Sep 16–Nov 6           
Once There Was a House…Echoes from the Villa of Mysteries—Laurie Kaplowitz and Katha Seidman
("Once There Was a House Facebook page, Click here)
OPENING RECEPTION: Friday, September 16, 6–8PM


"Once There Was A House" , a site-specific installation that my colleague Katha Seidman and I are in the process of designing and building, will open at the South Shore Art Center in Cohasett, MA in September 2016. We have created a Facebook page (Click here) to chart our progress as we develop this installation.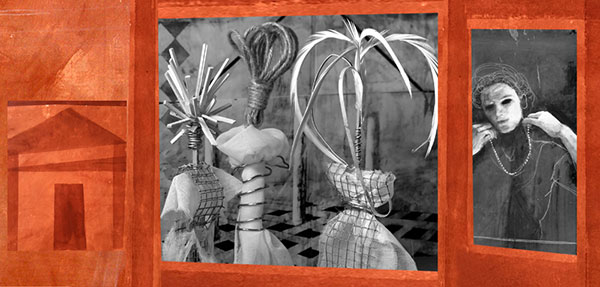 "Once There Was A House" is based on the Villa of Mysteries in Pompeii, a house where time has stopped, millennia have passed, and as if through a wormhole, we look on recognizing much, wondering at more. We invite you to view the page regularly to track our progress. We hope you will "like" and "follow" the page, and especially leave a comment.
---