SAVE THE DATES FOR OUR 61st ANNUAL ARTS FESTIVAL

Festival Program Book 2015 PDF
SAVE THE DATES (click on an event for more information)
Rockin' Preview Party Thursday, June 16
Friday Night Party Friday, June 17
Festival Dine Arounds Saturday, June 18


Sponsorship OpportunitiesSponsorship PDF

Festival ART prospectus—Juried, Members', Young Artists.Download prospectus here.

Be a part of the 61st Annual Arts Festival! For sixty-one years South Shore Art Center (SSAC) has offered an annual arts festival, exhibitions and classes to the South Shore region.
RECEIPT OF ENTRIES:

Juried Art Exhibition
Sat May 7, 10–4
Sun May 8, 12–4
Mon May 9, 9–9

Members' & Young Artists' Shows
Fri May 13, 10–4
Sat May 14, 10–4
Sun May 15, 12–4
---
Arts Festival Program Book AD Specifications 2016 Click here to download PDF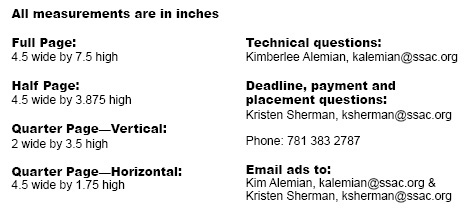 Ad Submission Specifications
300 dpi resolution or higher. Document size must match the actual ad size or it will be scaled to fit the designated space at our discretion.
Preferred format:
Adobe Acrobat PDF
Other accepted formats:
High resolution(300dpi/ppi) JPEG, TIF OR EPS file. InDesign® (indd), Adobe® Photoshop® (psd) or Adobe® Illustrator® (eps) Include all linked graphics and font files with your application files. Graphics files placed in a layout should be provided as JPEG, PDF, EPS or TIF files, positioned and updated within the application and sized/oriented properly.
Unacceptable formats:
Microsoft Word, Excel or PowerPoint
PageMaker
CorelDraw
Sending your ad to us:
As an email attachment. JPEG, PDF, EPS or TIF files also large jobs being sent as nativefiles can be provided as self-extracting archives.PDF proofs at 100% of ad size in the highest resolution possible are greatly appreciated and ensure the accuracy of your submission. Proofs must be created from and match the supplied electronic files.
B+W Ads:
Convert color graphics with your documents to grayscale.
A NOTE ON QUALITY
Providing us with a clean, clear, high-resolution PDF will ensure that your ad represents your business well. Most images can be scanned, but the quality of the original will affect the print quality. SSAC cannot guarantee the quality of submissions provided as color, Xerox copies, faxes, ads previously printed in newspapers or magazines and provided as clippings,or business cards, etc. If ads are provided in any of these ways and additional editing is required to meet our standards of quality, you will be notified of the additional charges before your ad is placed.
---
Check out the coverage on the Patriot Ledger website about our Art Festival Gala 2015 held on the grounds of the Music Circus.Congratulations to Frank and Mark for such a fantastic event!
Play the video and see the photos— http://www.patriotledger.com/article/20150617/NEWS/150616531
Arts Festival Craft & Fine Artist Application. Click here to apply.
---
Images of the 2015 Arts Festival



| | |
| --- | --- |
| | |
| | |
| | |
| | |
| | |
| | |
| | |
| | |
| photo: Tim Waite | photo: Tim Waite |
| photo: Tim Waite | photo: Tim Waite |
---
"South Shore Art Center Arts Festival mixes the best of small town New England summer
festivals with an uncommon attention to detail and commitment to presenting quality art and handmade craft."
South Shore Art Center Arts Festival celebrates its 61st year and showcases craft and fine artists from New England and beyond. In addition to almost one hundred juried exhibitor booths, the Arts Festival features a juried art exhibition and members' show, live music performances, artist demonstrations, children's art activities and a young artist exhibition.


The Arts Festival draws over 9,000 visitors from the Greater Boston region to historic, oceanside Cohasset Common.
---
About South Shore Art Center
A non-profit organization formed in 1954, South Shore Art Center is dedicated to enriching the communities south of Boston by fostering an understanding and appre­ciation of the visual arts through exhibitions and educa­tion. In addition to a nationally-recognized exhibition program, the Art Center offers courses and workshops for adults and children, and enrichment programs to area schools.




Gold Sponsors 2016

Silver Sponsors 2016

Bronze Sponsors 2016

Contributors 2016

Funded in part by the Massachusetts Cultural Councils' Festivals Program

Local Cultural Councils 2016

Abington Cultural Council
Canton Cultural Council
Cohasset Cultural Council
Duxbury Cultural Council
Hanson Cultural Council
Hingham Cultural Council
Hull Cultural Council
Kingston Cultural Council
Rockland Cultural Council
Scituate Cultural Council
Weymouth Cultural Council
Contact Kristen Sherman, Director of Development, ksherman@ssac.org